Challenges 2011
The first challenge I found! It will be challenging and comes from
Notes from the North
and I'm trying for
Freya: Read 3-5
books
, I figure if I read and count the three Stieg Larsson books I need to find at least one other that isn't:
The Ice Princess Camilla Lackberg
It's going to be QUITE the challenge and I'm looking forward to it!
I'm not very good at reading non-fiction, so I'm also looking forward to starting this
reading challenge
. I'll be going for the

1-3 books from different categories: Master of Trivial Pursuit

.
Cinderella Ate My Daughter Peggy Orenstein
The Story of Stuff Annie Leonard
Comfort Me With Apples Ruth Reichl
I found the historical reading challenge on the Book Ning at
Historical Tapestry
and can't wait to tackle this challenge. I'm going for
Struggling the Addiction 10 Books
:
Better than reading Jane Austen is reading all those Jane Austen inspired books, I've read several already and look forward to attacking more at this
challenge
:
Prom and Prejudice Elizabeth Eulberg
These final two challenges should be easy, breezy lemon squeezy...as I am an Anglophile and love essay reading, so I'll be doing this
essay challenge to boot
! :)
From
The Conscientious Reader 6th Edition
1. "Who Do You Think You Are?" Garrison Keillor
2. "The Anger of a Child" Adrienne Rich
3. "The Angel in the House" Virginia Woolf
4. "Learning from Disney and Dickens" John Gardner
5. "Science Fiction: Imaginary Worlds and Real-Life Questions" Noel Perrin
6. "Talking Black" Henry Louis Gates, Jr.
7. "Life Is Sacred: That's the Easy Part" Ronald Dworkin
8. "You Have to Know What Your Values Are" Alan Alda
9. "The Quiet Movement of American Men" Betty Friedan
10. "Dearest Scottie" F. Scott Fitzgerald
11. "Life Without Go Go Boots" Barbara Kingsolver
12. "Growing Pains" Michael Thomas Ford
7 Essays all about the US of A and American Culture:
13. America: The Multinational Society by Ishmael Reed
14. Aria: Memoir of a Bilingual Childhood by Richard Rodriguez
15. What is an American? by J. Hector St. Jean de Crevecoeur
16. The Plastic Pink Flamingo by Jennifer Price
17. The Cult Ethnicity, Good and Bad by Arthur M. Schlesinger
18. Here is New York by E.B. White
19. What Does It Mean to Be an American? Patriotism, Nationalism, and American Identity After 9/11 by Qiong Li and Marilynn B. Brewer
20. What Makes Superman So Darned American? by Gary Engle
3 Essays about Teaching and Education:
21. Scenarios on the Use of Formative Classroom Assessments by Cassandra Erkens
22. Helping Students Understand Assessment by Jan Chappuis
23. Formative and Summative Assessments Defined by Larry Ainesworth
The Best American Essays in 2008
24. Notable Quotables Louis Menand
25. Solipsism by Ander Monson
Holiday Essays
26. Why We Crave Horror Movies by Steven King
27. Lost in the Kitchen by Dave Barry
28. Home for the Holidays by Chris Radant
29. Inside and Out by Lisa Widenhofer
30. A Winter's Walk by Henry David Thoreau
I'm going for
30 essays
and will post about them periodically throughout the year.
And, I thank
Michelle
and
Julie
for enticing me to do the following challenge:
Little Bee by Chris Cleave
Jane Eyre by Charlotte Bronte
Limitless (The Dark Fields) by Alan Glynn
Stardust by Neil Gaiman
One Day by David Nicholl
American Gods by Neil Gaiman
White Teeth by Zadie Smith
Doctor No by Ian Fleming
British books
...drooling just thinking about it! Since I am not 'homegrown'
L
I'll be going for
The Royal Family
...yes, 12 books!)
I think the challenge below will work nicely with the British books challenge,
Gothic Reading Challenge
. I'm going for
A Little Madness
1 Novel:
Jane Eyre
COMPLETED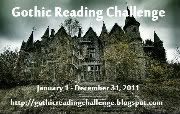 The next challenge, I just stumbled upon this morning while checking my dashboard (4.18.11) and as a rabid fan of reading and the show, I can't wait!
Gilmore Girl Reading Challenge
. I'm going for the
Lorelai: Read 10 books from at least three different categories
. Mostly because I've read 65 books on the list and most of the non-fiction I have no desire to read, some books are categorized wrong (ie. The Good Soldier is a work of fiction, for instance), which leaves only a few books left. I hope that it is OK that I'm counting books read since January of 2011 since I've read Jane Eyre and here are my other nine books:
Jane Eyre Charlotte Bronte (Classic)
Candide Voltaire (Classic)
The Scarecrow of Oz L. Frank Baum (Childrens/Young Adult)
Rapunzel The Brothers Grimm (Childrens/Young Adult)
"Snows of Killimanjaro" Ernest Hemingway (Modern)
"The Trial" Franz Kafka (Modern)
Ironweed William Kennedy (Other)
Love Story Erich Segal (Other)
Valley of the Dolls Jacqueline Susann (Other)
The Graduate Charles Webb (Other)
I've also made a button for the challenge (I couldn't find one for this the 2011 year).
Hoorah for reading challenges!